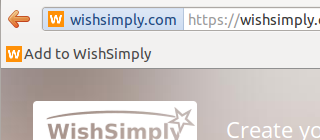 Add to WishSimply
Drag this button to your bookmarklets toolbar.
'Add to WishSimply' button makes it easy to collect any item to your wishlist. After you have added it, just click 'Add to WishSimply' whenever you see something you want to add to WishSimply.
If you are not familiar with bookmarklet, check this short (2min) video to see how to install and use it.